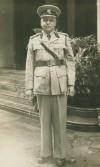 Sri S Parthasarathy Iyengar was the second son of late Mr. K C Srinivasa lyengar, B A, a leading mirasudar of Kulumani. Village a suburb of Trichy town. Mr. Parthasarathy was born on 01.05,1903 - birth star Tiruvathurai - the birth star of Lord Siva and Sri Ramanujar and was named as Parthasarathy - the name of the presiding deity of Triplicane where his family resided. Mr. K C Srinivasa lyengar on graduation, instead of a sedentary life as a land owner moved to Madras and was the Headmaster of the Hindu Theological High School and later was the Headmaster of a School of wards exclusively meant for the children of the then Maharajas, Jamindars etc. He was not only the teacher but also a guide and coach for all-round development of those children. He had great dreams for himself and his children but fate intervened and he died at the age of 40 years in 1915 leaving behind family of three sons and three daughters besides his wife. Naturally the family moved back to Trichy. Mr. Parthasarathy and his brother S Kasturirangan, (who became a leading advocate at Trichy later) studied up to 1915 in the Hindu High School, Triplicane and later in National High School and St. Joseph's College, Trichy Mr. Parthasarathi after graduation studied at the Madras Law College where he took his BL and ML Degrees winning several gold medals.

Later Mr. Parthasarathy joined as an apprentice under the famous Lawyer Sir Alladi Krishnaswamy lyer. His co-apprentices Mr. Uma Maheswaran and Mr. Subba Rao adorned the Madras High Court as Judges later.

Simultaneously, Mr. Parthasarathy appeared for the then prestigious competitive Imperial Police Examination and was selected for the IP service in 1926. It is said that his selectors were initially reluctant to take him as they felt he had a great future in the legal profession. However Mr.Parthasarathy persisted and was appointed to the I P on 1st May 1927 and posted to Thanjavur Thereon, he worked in various grades as SP; DIG of police and later as the Commissioner of Police, Madras City. He had worked in the entire then Madras Presidency covering parts of Orissa to South Canara and Kerala. He was proficient in Telugu, Urdu besides English and Tamil.

As per the wishes of late Sir C P Ramaswamy lyer the then Diwan of old Travancore State, Mr. Parthasarathy was seconded to the Travancore state as I G of police and worked there from 1944 - 1947, At the lime of independence, Mr., Parthasarathy opted back to Madras State declining an offer of the British authorities for service in the Common wealth.
On the 11th of June 1953, he was appointed as the Commissioner of Police, Madras city which he served for a full term of 3 years. As a Commissioner of Police he was accessible even to the members of the lowest strata of society and took interest in solving their problems. He was always humble in his approach, applying laws of justice. He had enjoyed great reputation for honesty and uprightness. In 1958, he shifted to Delhi and was appointed as the Inspector General of Railway Protection Force which |he organized from the scratch Along side he was the Director a of Vigilance - Railway Board, besides part time Member of the Union Public Service Commission.

Even though he could have continued beyond 1961, he decided to return to Madras, to devote himself to social service. After retirement, he was involving himself in the following organization:
a. President, Sadhachar Samity
b. Secretary, Vivekananda College
c. Ramakrishna Mission
d. President of the Private Management Colleges Association
e. Member of the Madras University Senate for two terms
f President , Vigilance Home for destitute women / Child Welfare Trust
g. President of the Madras Agri Horticultural Society
h. President, Lakshmipuram Young Menís' Association.
i. Mylapore Academy.
j. President of the Hindu High School

All these activities kept him in good spirits health. During this period, there was an offer for a Lok Sabha seat from Mylapore from a leading National Party. He declined the offer as he was not interested in politics. He was fully occupied in helping people who approached him and had no interest in materialistic things of life say even a house of his own. He lived in a rented house.
During his service, he was decorated with the Kings' Police medal besides the President's Police Medal. In his younger days, he was interested in horse riding, riffle shooting, tennis and golf. During his term as Commissioner of Police, he formed at his residence and hosted a forum called the 'Saturday Evening Club'. The activities of this club were so wide and varied that it helped the members of the club to develop their personality and pursue their intellectual pursuits He had two brothers and three sisters and they were well placed in life. His children and grand children also his nephews and nieces later held prestigious positions in the country and abroad. All his brothers qualified for law His was a happy joint family who all cared for each other. His wife Mrs. Rukmani Parthasarathy was a student of an English convent at Palayamkotai at the time of his marriage in 1922. She was equally kind hearted and affectionate and self effacing and was a pillar of strength to her husband

and family.
Sri. Parthasarathy was active till the last moment and without pain /suffering passed away on the 13th of July 1983 shortly after completing 80 years of age He has left behind a rich legacy to his family and society.